Clean and disinfected surfaces reduce the number of microorganisms by nearly 99%, which is why cleanliness plays an important role in reducing diseases. While surfaces pose minimal risk of direct infection transmission, they can contribute to cross-contamination via hands, creating a high hazard in critical areas.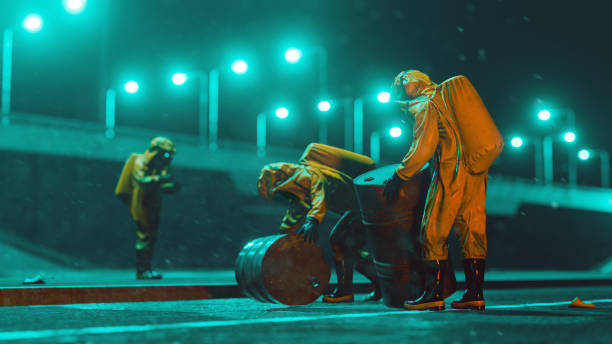 Workers wear protective suits and rubber boots while they move big barrels. It is night. The barrels could be filled with all kind of things linke toxic waste or chemical weapons. Digitally generated image.
These areas are sectors, rooms, or hospital services where seriously ill patients, with chronic diseases or invasive procedures, are concentrated.
For proper cleaning of critical areas, it is important to identify the materials to be used. Let's remember that cleaning has color codes to avoid cross-contamination. These materials may be different depending on the service or company, so a recommendation is to label them or place a badge on them, so that you do not use the same in different areas.
To do a correct cleaning, you must follow these basic principles:
From top to bottom: It starts with ceilings, lamps, walls, doors, and finally the floor.

Starting the inside out: It starts on the opposite side to the entrance.

From the clean to the dirty: It starts from the cleanest to ends in the most contaminated. With this, we avoid moving dirt from one place to another.

From the center to the periphery, we only applied it when the surface is very extensive.
The cleaning techniques used in critical areas are:
Washing: It seeks to remove and remove dirt from surfaces that require it and are visibly dirty. The frequency of cleaning will depend on the amount and type of dirt. When surfaces or floors are stained with biological fluids, they will need cleaning immediately.

Wet technique: In critical areas, the use of a broom is not allowable, to avoid raising dust particles. What we recommend is to use a damp cloth for surfaces and a damp mop for floors.

Double bucket technique. We will place Clean water in one bucket and rinse water in another so that disinfected surfaces are not re-contaminated by dirty water. Every time we change the room, we will change the water in both buckets.
Besides the above, it is important that the people in charge of cleaning have good personal hygiene. They must not wear jewelry or hats, nails must be short, clean, and free of polish, and the uniform must be clean and complete every day.
By carrying out the above recommendations, we will have critical areas in excellent condition, safety and welfare,  and free from danger and health risks.
If you require deeper cleaning, you can hire a professional cleaning service that will give you excellent results.
At SCS Group, we have over 10 years of experience and we are part of the ranking of the 3 best cleaning companies in Australia. Get a quote today on this website for the service your company needs! We guarantee that with us you will bring well-being to everyone.