There are many microorganisms that stay on surfaces; Frequently, the cleanliness that is commonly done is not enough to eliminate viruses and bacteria that can cause harmful diseases in humans. Public places are usually the main place of the contagion of various conditions. An example of this is the Covid-19 pandemic, where we have had to protect ourselves in our homes and avoid this type of place. However, with the opportunity to return to our face-to-face activities, it is essential that there is good cleaning in public spaces, to avoid any kind of risk to our health.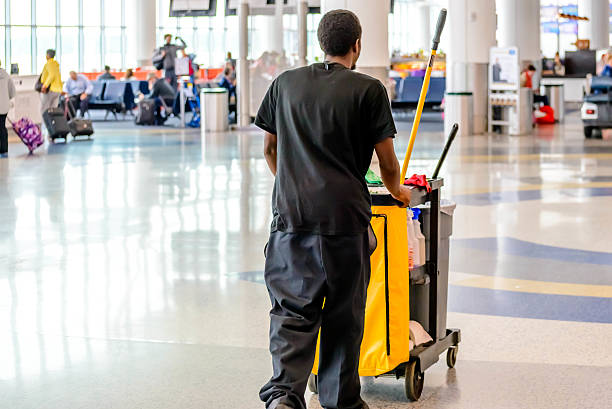 Importance of knowing when to clean or disinfect public spaces
The first thing we need to know is that daily cleaning comprises using soap and water, perhaps some other chemical product, to reduce germs in certain spaces; however, frequently this is enough to have a clean place. Now, if there is a risk of disease as if a person with the Covid-19 virus was present in this public space, it is best to properly disinfect each place or area.
When we talk about disinfecting, we refer to the action of cleaning and using professional chemicals to eliminate viruses and bacteria from a certain place. In this way, we can ensure that we will avoid contagion, our shops will always look neat and we will all achieve the well-being we deserve by going to one of these public spaces to relax from our daily activities.
The difference can be between cleaning and disinfecting; However, frequently, it is best to carry out both actions to prevent the spread of diseases and to keep people's transit places clear, in order to avoid any type of accident.
When is it recommended to disinfect or clean a certain public space?
What we mainly recommended is to have a cleaning and disinfection plan for all places. Where there is a large flow of people or where many individuals are concentrated. In this way, it will be possible to keep the spaces ventilated, clean, and disinfected to avoid any type of risk in offices, public transport, shopping malls, events, or schools.
Now, the best thing we can do is clean more frequently and disinfect all those shared spaces. Mainly if any of these cases exist:
It is an area of ​​high traffic of people or where many people converge. For these types of places, proper disinfection and sanitization of surfaces is recommended, besides ensuring that there is proper ventilation to prevent disease spread.
Space where we can not practice proper hand hygiene or if it is not possible to have a disinfectant. Here, the best thing to do is to constantly clean and disinfect each surface where there is constant contact between individuals.
In an area where there are people with a higher risk of getting a disease. We can take hospitals as an example, where special attention is for cleaning activities to eliminate the largest number of microorganisms that can cause complications in people's health.
If there is confirmation of the presence of a highly contagious virus in a public space, such as Covid-19. Here, professional disinfection is the answer to bringing well-being to all and eradicating any trace of pathogenic microorganisms.
Recommendations to maintain cleanliness in public spaces
Although the pandemic has made cleaning an important point in modern society. Having a good cleaning plan for public spaces has always been necessary for large cities. In all those places where there is a lot of traffic. For this reason, we offer you some recommendations to get a good cleaning of this type of site.
It is essential that before the cleaning and disinfection; we carry out actions, on the doors, windows or all those elements that can allow good ventilation of said spaces.

All spaces that make up public places such as offices and schools need cleaning and disinfection. Considering all those areas where there is greater contact, such as railings, door handles, windows, touch screens, etc.

Do not mix chemical detergents, soaps, or sanitizers unless the product label allows it. This is because the mixtures can inactivate the properties of these items or produce an extremely toxic liquid for people.

It is important to have a cleaning process for electronic devices that may become available to many people in public spaces. Whether they are tablets, touch screens, keyboards, and ATMs, they are a potential source of infection. We have to follow the manufacturer's instructions for cleaning or consider using wet wipes that contain alcohol.

Provide antibacterial gel or materials that allow disinfecting and cleaning of the hands of those present. This is to prevent the spread of viruses and other elements that can be harmful to people's health.
At SCS Group, we care about bringing wellness to everyone. For this reason, we have the latest technology for cleaning public spaces. Learn about our services on this website or request a quote! With us, there will be no surface that is not shining clean.